biogas holder. double membrane gas storage.

The generizon partner Sattler Ceno is known for its freestanding double membrane gas holder (DMGS), the classic gasometer.
In its ¾-sphere or hemisphere form it represents the traditional external gas storage solution for high gas pressures and storage capacities. The Sattler Ceno's DMGS consists of an outer membrane that gives the form to the gas holder and an inner and floor membrane that constitutes the actual storage space for the biogas. A permanently operating supporting air blower injects slightly over pressured air into the space between the outer and inner membrane of the gas holder.
This air maintains the shape of the gas holder, allowing the gas holder to withstand external loads like wind or snow. At the same time, a slight over pressure is applied to the inner membrane which makes up the so called operating pressure of the double membrane gas holder and makes it possible to reinject the stored biogas into the system for usage in an engine or flare.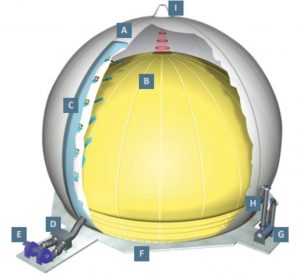 product features of the freestanding double membrane gas storage/holder DMGS. gasometer.
sophisticated technology and guaranteed quality
supporting-air flow with the patented
AIRFLOW-SYSTEM™.
highest measurement accuracy thanks to
the controlled inner membrane.
energy savings and safe operation are ensured by blowers with a flat characteristic line.
airflow system with EX monitoring.
permanently leak proof.
optimum fill level measurement.
project specific engineering possible.
the storage capacity increases with the ⅞-sphere.
visit Sattler Ceno TOP-TEX homepage.
download folder biogas.