we are generizon.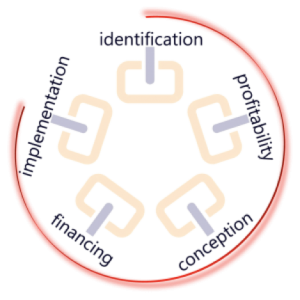 generizon is local. Market knowledge, adaptation of progressive ideas and strong partnerships; we lead through the project. If you can think it we can do it.
generizon had been mandated by international financial institutions IFCs to carry out feasibility studies.
generizon is active in 3 sectors
waste2energy projects for communities,
agricultural biogas projects, large animal farms,
any industrial application that involves biogas or natural gas.
We:
identify potential biogas projects; understand the clients' needs, opportunities, and limitations,
determine your project's profitability and technical feasibility through a comprehensive study,
design the technical solution that best suits our clients' requirements, based on a detailed planning study.
propose financing options, involving financial institutions, funds, and grants
provide our client with turn-key equipment and its installation, the commissioning and monitoring of the plant, training of workers, and maintenance.
equipment.
Through multiple strong partnerships with quality producers generizon is in a position to offer the full range of equipment necessary for the construction of biogas plants or an industrial natural gas application.
We offer:
As sales partner of 2G, we offer the complete range of biogas and natural gas engines, combined heat and power plants over the power range of 20kW to 2000kW, across a spectrum of different engine makes: MAN, Agenitor (2G), Jenbacher and MWM, others,
for solutions that comprise the production of electricity, heat, steam, and refrigeration, others.
With our partner, WELTEC Biopower, in Vechta, Germany, generizon offers complete turn key biogas plants, EPC,
for industrial applications and auto-production/consumption, and grid injection,
for bio-methane upgrading, for gas vehicle use or gas grid injection.
generizon offers the full range of biological and chemical gas treatment and desulfurization options.
other auxiliary equipment, like biogas flares and blowers, compressors, nutrient recovery systems, etc., please ask.