Manfred Schweda. director generizon.
generizon, in Rabat is today wholly controlled and owned by Manfred Schweda. Manfred holds an MBA from the University of Economics and Business in Vienna and worked 12 years in banking/emerging markets interest rate derivatives trading in Vienna, Berlin, London and Frankfurt.
Manfred came first to Morocco in 1993, and then again in 2005 when he spent his first 6 months in a row in the country; in most subsequent years he would divide his time between Morocco and West Africa, the Middle East, and the Americas. Manfred has travelled to the four far corners in Morocco, Oujda, Figuig, Zagora, and Dakhla, he climbed to the summit of Jebel Toubkal, and attended the festival of Gnaoua in Essaouira every other year.
In 2013 back from South America and drawn by the Desertec idea and the Moroccan government's renewable energy initiative Manfred settled in Casablanca, Morocco to start-up his own company in the field of renewable energies, MSConex sarl, a consulting boutique was born. Since the beginning the focus was on biogas and waste2energy.
In several meetings throughout 2014, Manfred Schweda teamed up with Stefanie Sohm to create generizon sarl, a Moroccan biogas project developing company. generizon was officially registered in April 2015.
The company became representative of WELTEC BIOPOWER in 2015, 2G-Energy in 2016, Axiom, Himmel and TS Umweltanlagenbau in 2017, Binder and Sattler followed in 2021.
Manfred Schweda today holds and controls 100% of the shares in generizon, and is its sole general manager.
generizon. milestones.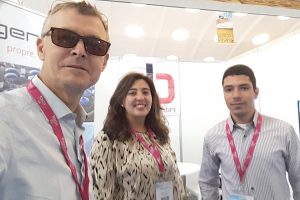 Also starting in 2015, MSConex and generizon began laying the groundwork for what would eventually become the Moroccan Organic waste-to-energy program (waste2energy). How could anaerobic digestion play a role and have an impact for Moroccan municipal solid waste MSW, can it be done? Household waste in Moroccan is not being sorted or collected separately; but with 70% organics the potential and the problems lay bare to be seen in the form of overwhelming leachate production and unchecked GHG emissions.
Since their inception, MSConex and generizon have worked on several feasibility and shorter studies involving agricultural and agro-industrial solid and liquid waste stream projects.
It was in 2018 that Manfred and Stefanie from generizon were eventually called to do the European Investment Bank EIB organic waste studies in Marrakech and Tanger that now form the heart of an Organic Waste2Energy Program that is currently being discussed with several ministries and for which ITMO (Paris Agreement Article 6) carbon financing is being sought.
MSConex has been an EBRD expert/consultant for energy efficiency since 2017 and was 2019 selected by UNIDO/CTCN to conduct the economic and financial part of a feasibility study for the energetic valorization of agricultural residues (cocoa pods) in Côte d'Ivoire.
MSConex's current focus is solely on the consulting activities whereas generizon retains the equipment sales and project development activities.
partnerships. installations. references.
generizon today offers a full range of products and services around the biogas value chain, through its network of reputable key partners:
2015: WELTEC BIOPOWER, based in Vechta, Germany, leading in turn-key biogas and waste2energy plants, with 300 plus installations worldwide.
2016: 2G, based in Heek, Germany, leading manufacturer of combined heat and power solutions, natural and biogas cogeneration engines; 2G is stock exchange listed, with 6,000 installations worldwide.
g references:
wastewater treatment plant, Ben Guerir, by OCP: 150kW CHP Filius/MAN engine.
wastewater treatment plant, Youssoufia, owned by OCP: 100kW CHP Filius/MAN engine.
2017: Axiom angewandte Prozesstechnik, based in Ebreichsdorf, Austria, chemical desulfurization, gas separation, upgrading technology.
2017: GT Himmel, based in Korneuburg, Austria, manufacturers biogas and natural gas flares and blowers, upgrading technology.
g references:
landfill, Marrakech: landfill gas compressor unit 30kW, ATEX.
2017: TS Umweltanlagenbau, based in Brieslang, Germany, manufacturer for desulfurization plants (bio-trickling bed reactors), with thousands of references worldwide.
g references:
industrial entity, Kenitra: 10,000ppm H2S bio trickling filter, biogas desulfurization plant for 550Nm3/h.