H2. the green Moroccan hydrogen gameplan. what are Morocco's ambitions?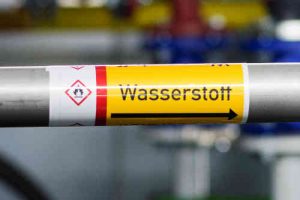 Morocco magically combines the potential of renewable energies and geographical proximity to the European continent.
3,000 hours of sun every year, more than 5 kilowatt-hours per square meter per day,
Wind power with a load factor in some regions of more than 70 percent,
Government and Royal commitment manifested in the national strategy for sustainable development SNDD, MASEN, IRESEN,… 2030 52% of installed electricity generating capacity shall be renewables,
Morocco's NDCs are ambitious, the target is to reduce GHG emissions by 42% by 2030 against BAU (conditional on financing, the unconditional target is 17% reduction),
National Commission for Power-to-X under the aegis of the Ministry of Energy, Mines and Environment,
Morocco's proximity to Europe, Morocco is already interconnected by a gas pipeline to Spain.
With industrial efficiency advances and economies of scale for water electrolysis (due to widespread adoption), combined with cheap solar and wind electricity from the desert (10-20 EUR / MWh), it may be possible to achieve cheap, around 1 EUR / kg green hydrogen price by 2030.
Obviously, Morocco has to ramp up and deploy huge renewable production capacities first, for water desalination and electrolysis.
But Morocco, unlike other contenders, has its own reason to do this.
Green hydrogen in Morocco by order of importance :
Produce green hydrogen and then ammonia (NH3, Haber-Bosch process, nitrogen fixation) for the substitution of current heavy imports of ammonia (grey).
Morocco has about 75% of the world's estimated reserves of phosphate rock and mines, it is the third largest producer of phosphate, and a major exporter of phosphate and fertilizer, and the other major ingredient in the production of fertilizer, ammonia, is currently entirely imported, which costs Dollars.
Use hydrogen in a future natural gas network (Morocco's national natural gas plan) mixed with methane to generate heat, and thus decarbonize the heat needs of Morocco's industry.
Use hydrogen for other chemical needs, petroleum refining and desulfurization, for other chemical uses.
Use hydrogen as a means of storage and intermittency, to re-produce electricity when needed, in an electricity network dominated by renewables, at a time when renewables are not sufficiently available, in a flexible way, and decentralized.
The proximity to the European continent makes Morocco a leading strategic partner. Several European countries, notably Germany, are interested in the hydrogen energy partnership.
Morocco could eventually become one of the main exporters of green hydrogen and derivative products "Power-to-X (PtX)", destined for Europe, Morocco feels largely qualified to play this key role.
Using hydrogen for sustainable mobility in vehicle-integrated fuel cell cars.
or all at the same time.
It is more than clear, Morocco is there for a big splash, this is Morocco's century. Morocco's geostrategic position at the gateway between the continents, with a steady hand in politics and a serious industrial and renewables agenda that serves its emerging economy, make the country the ideal European partner.
Here we can produce the GigaWatts cheaply that will one day be exported, and bring a Gulf and oil-like bonanza to the Kingdom.
The Kingdom of Morocco has therefore initiated a regional dynamic that aims to create an economic and industrial sector around green molecules, particularly hydrogen, ammonia, and methanol, in order to consolidate its energy transition, reduce its greenhouse gas emissions and also support the decarbonization of partner countries.
The Green Hydrogen Roadmap, Vector of Energy Transition and Sustainable Growth, describes its development stages up to 2030, 2040, and beyond, going in tandem with the evolution of technologies for the production, storage, transport, and usage of hydrogen in all the various fields.
Morocco, thanks to its geographical position, can capture up to 4% of the global demand for green molecules. The national demand for green hydrogen and its derivatives is estimated at 4TWh in 2030 powered by 2GW in renewable energy sources, 22TWh in 2040, powered by 12GW, and 40TWh in 2050, powered by approximately 20GW of installed renewable capacity. Export demand is estimated at 10TWh in 2030 (6GW in renewable energy power capacity), 46TWh in 2040 (25GW), and 115TWh in 2050 which necessitates 60GW of installed capacity in renewables.
This is the equivalent of a cumulative investment of 90 billion dirhams by 2030 and 760 billion dirhams (70 billion Euros) by 2050 (green hydrogen roadmap). Well, this is a splash.