explosion prevention & protection.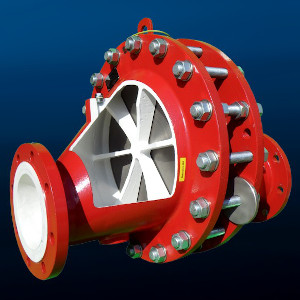 Today, with about 70 employees, KITO® manufactures flame arresters,
valves and special devices for a diverse array of customer requirements.
the flame arrester. return protection.
This is KITO®'s core product category, and it comes in many variations.
inline deflagration flame arrester.
If potentially explosive gas-air mixtures ignite in a section of pipeline, the explosion starts out as a deflagration propagating at relatively low pressures and flame speed below speed of sound.
KITO® inline deflagration flame arresters are used to prevent a chain reaction from propagating into connected sections of equipment.
flame arrester for connecting pipe work.
inline anti-deflagration.
this classical flame arrester is intended to allow flow but prevent flame transmission.
uni / bidirectional.
all devices are optimized for low pressure losses.
all sizes. for many different explosive gaseous mediums.
The usage of a flame arrester is restricted to short sections of pipelines between a potential ignition source and the device. This distance, known by the L/D relation (ratio of pipe length over pipe diameter) is specified for each explosion group in the standard ISO 16852.
The appropriate deflagration flame arrester must be selected for a given application, given operating parameters such as pressure, temperature and explosion group of the medium.
Under particular application conditions such as installation in flare lines or thermal incineration plants, the installation of one or more thermo-elements on the KITO® flame arrester is recommended to enable detection of a fire.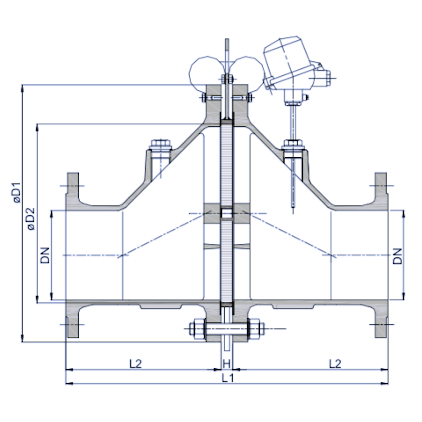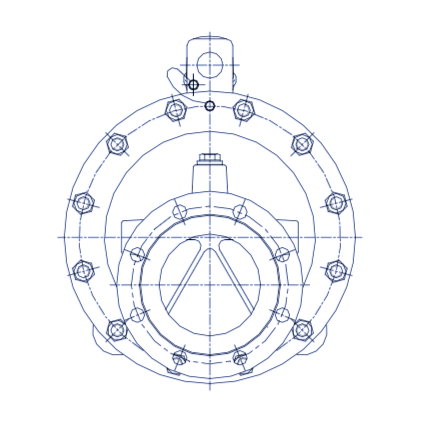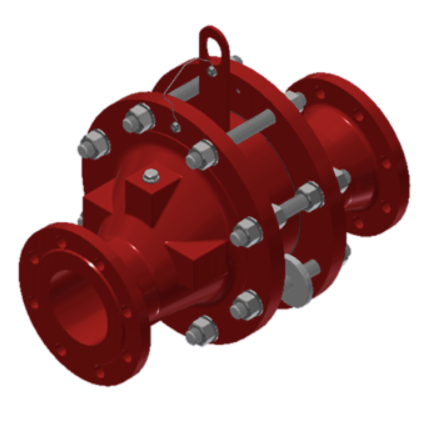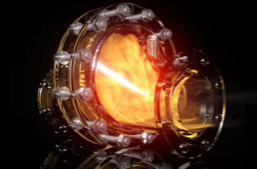 how is the flame extinguished?
A flame propagates in pipelines in the direction of the unburned gas, it will reach the flame arrester where the flammable gas or mixture will enter a narrow gap between two bands.
The flame is losing so much energy through the flame arrester element, until the temperature decrease under the auto ignition temperature of the flammable gas-air mixture!
Basically it works like a heat-exchanger. Once enough temperature/energy is removed and transferred to the steel material of the flame arrester element, the flame is extinguished and prevents flash-back.
definition of DIN EN ISO 16852.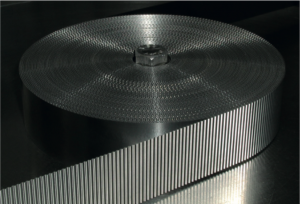 Compliance with tolerances must be verifiably monitored during manufacturing to ensure reproducibility. This is what Kito® does.
ISO 16852 specifies performance requirements, test methods and limits for use for flame arresters. As a consequence different substances, gasses, mediums of explosive gas air mixtures require different arrester elements, different material, and especially smaller or larger gaps in the element.
Each gas or vapor is associated with a maximum gap, called maximum experimental safe gap (MESG). As a consequence MESG values are a means to categorize gases based on their capacity to produce flashback, to sub-sum them in explosion groups.
inline explosion-proof.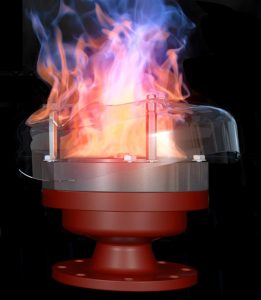 inline anti-detonation. which holds back the flame and the pressure wave.
uni / bidirectional.
all sizes. many different explosive mediums.
all devices are optimized for low pressure losses.
end of line flame arrester.
This device is also known as ventilation hood with a flame arrester. Several types :
end of line deflagration proof. after attempted entry into the tank the flame is extinguished by the flame arrester.
end of line endurance burning proof. offers the highest possible level of safety. the endurance burning proof can avoid flame propagation for an unlimited time.
deflagration-proof pressure and vacuum relief valve.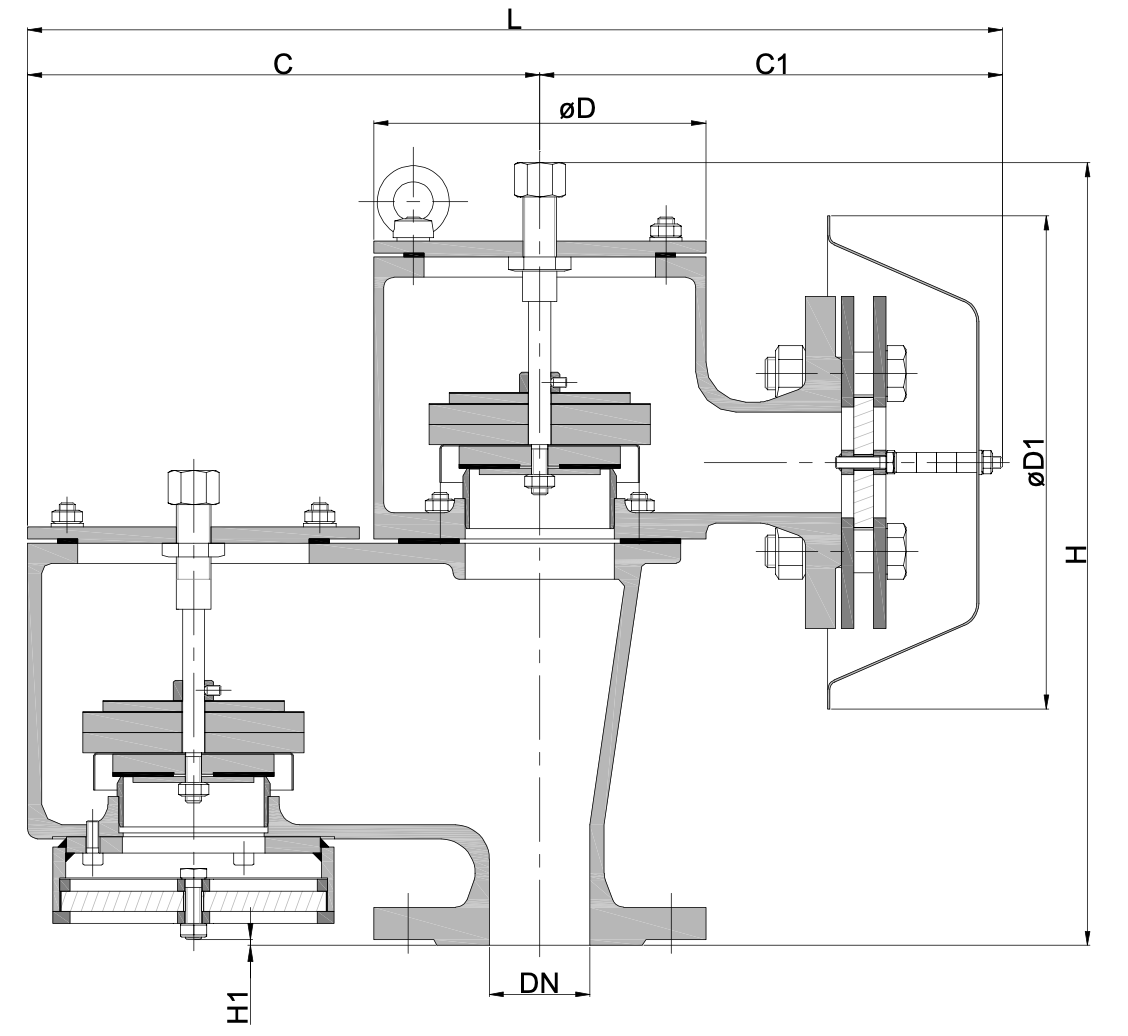 These are end-of-line pressure and vacuum relief valves with integrated flame arrester elements. They are used for venting apertures on tank installations, they are tested and approved against atmospheric deflagrations for different materials and explosion groups with appropriate maximum experimental safe gap (MESG) and operating temperatures. These devices are mainly for venting as breather devices for fixed roof tanks. Used to prevent inadmissible pressure and vacuum and to minimize unwelcome gas losses or inadmissible emissions respectively. The housing is mounted perpendicularly on a tank roof.
others.
relief valves.
pressure valves.
vacuum valves.
solution for storage of dangerous inflammable liquid.
customized explosion protection solutions.
tank car valves.
KITO® in a nutshell.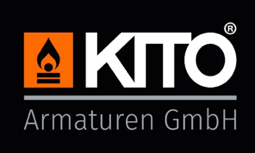 flame and detonation arrester. return protection
inline anti-deflagration.
end-of-line devices with integrated flame arrester element.
ISO 16852. performance requirements for flame arrester element.
ATEX certified.
pressure and vacuum valves for tank protection.
easy maintenance.