solution. energy management.
Today, electricity production in almost all countries is centralized. The usual efficiency of conventional power plants is around 35%, combined cycle power plants can exceed 60%. But everything else is dissipated as heat.
In addition, the generation and consumption points are far from each other. Line losses range from 7 to 15%.
In comparison to all that, a combined heat and power (CHP) gas engine achieves an efficiency of 85% and higher.
CHP modules in containers are an optimal "turnkey" solution for industries looking for an efficient solution with reproducible quality.
Our configurations are all tailor-made, preinstalled, pretested in the factory, ready to connect and commissioned at the customer.
Whether synchronized with the network, or designed as a stand-alone unit in island mode, or else as a continuous backup system for power supply, to guarantee maximum security, 2G solutions have proven themselves in the industry.
Today's natural gas is tomorrow's hydrogen.
high efficiency and controlled costs.
Natural gas CHP plants convert natural gas (primary energy source) into electricity and heat. Energy is produced where it is consumed. Heat is also utilized to a maximum extent on site to meet heating or other process requirements.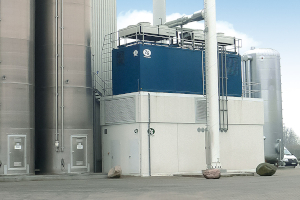 An industry connected to natural gas can therefore have:
a combined heat and power plant with efficiency of more than 85%,
self-generation of electricity with or without grid injection,
as a co-product hot water or hot air,
as a co-product steam by means of a steam generator using the high temperature of the exhaust gas,
refrigeration / air conditioning.
Today's 2G CHP natural gas engines for industrial customers are profitable solutions that effectively contribute to a sustainable development.
decarbonized industrial production.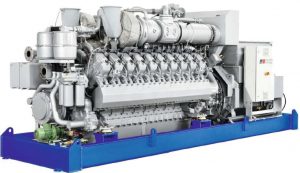 Low-carbon production is currently becoming essential, industries are led to create a low-carbon energy system and / or one that is based on renewable energy.
Natural gas is a key factor in the energy transition, cleaner than the predominant coal or heavy fuel oil; natural gas releases up to 50% less CO2 than coal and 20-30% less than oil.
Industries connected to natural gas can easily decarbonize their production in a decentralized, efficient and clean way with a latest generation 2G engine.
economies. financial gains.
generizon brings you a turnkey solution that is adapted to the Moroccan context;
we support in developing the profitability of the project,
with a profound and open analysis
through clear economic / financial calculations,
which, at generizon, are the keys to all planning well before the actual technical implementation.
We offer 2G/agenitor, Jenbacher/Innio, MTU and MWM.
Preinstalled in a container, pretested, ready to connect.
Contact us!